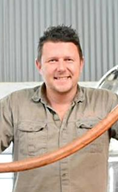 For the past 6 years, Hendre' has been serving as Training and Marketing Manager for Distillique, a South African company focussed on educating, supplying and supporting Home and Craft Distillers in South Africa.
His distillation knowledge was obtained while studying Engineering at the University of Stellenbosch, his fermentation knowledge through 3 years of work experience as an Assistant Winemaker at an award winning Wine Cellar in Wellington, and 12 years of work in Food & Beverage Production and Trade resulted in extensive experience in On and Off Premises Consumption, Marketing, Licensing, Legislation, HACCP, Logistics, Operations and much more.
His current responsibilities include the Training of Individuals and Groups in the Art of Home and Craft Distilling, developing training material and courses, expanding on current course material, Marketing Distillique and all services they provide as a company. The long term goal is to create a culture of Craft Distilling in South Africa.
Courses he currently presents include Distilling Theory, Craft Distilling, Comprehensive Distilling, Craft Distilling Business Planning, as well as Theoretical and Practical Workshops in Brandy, Whiskey, Light and Dark Rum, Vodka, Gin, Liqueurs and Infusions, Tequila, Bio Ethanol Fuel, Aromas and Blending, Plate Column Operations and Multi Column Still Operations. Recently he added Vacuum Distillation, Essential Oil Extraction, Fermentation Theory and Advanced Yeast courses as well.
During the past 6 years, Hendre' has trained over 10 000 individuals from more than 40 countries in Distillation, including, but not limited to, South Africa, Botswana, Namibia, Zimbabwe, Zambia, Ethiopia, Nigeria, Seychelles, Mauritius, Australia, New Zealand, France, Italy, Portugal, the UK, Scotland and Ireland, the USA and Canada.
This includes home distillers, commercial distillers, brand ambassadors, winemakers and distillery staff members.
Another part of the services Hendre' and his colleagues at Distillique provides is custom engineered distilling equipment and systems, as well as the design and construction of craft distilleries. Distillery Design and Layout is his chief responsibility, as is onsite Commissioning and Training. Together they have set up more than 115 Commercial Craft Distilleries too date, not only in South Africa, but also in Madagascar, Mauritius, Botswana, Namibia, Zimbabwe, Kenya, Ethiopia, Zambia, Ireland and Lebanon. This year they are also doing their first distilleries in Bali and Australia.
Over the last 6 years Hendre's trainees have won more than 500 Local and International Spirit Awards, including (most recently) Gin of the Year in the London International Spirit Awards.
As part of his work at Distillique Hendre' is also the driving force for SACDI, the Southern African Craft Distilling Institute, and serves as Secretary Pro Tem. In that capacity he has managed to institute major changes in the South African Excise Act to the benefit of Craft and Home Distillers in South Africa, as well as to the National Liquor Products Act Regulations, which governs the Product Classifications in South Africa.
Among these changes, South African Distillers are now allowed to make Barrel Aged Gin, Sweeten Gin (either for Old Tom Style or Obscuration purposes), produce Moonshine (Unaged Grain Spirit), etc.
Additional projects Hendre' is involved with include: a New Craft Liquor Manufacturing License Category, "Real Craft" Spirit Certification, a new Craft Spirit Competition, etc.
Hendre' has also consulted with Craft Distillers in New Zealand, Australia, Georgia, the United States, Italy and Spain to troubleshoot their processes, assist with Distillery design, etc.